General Information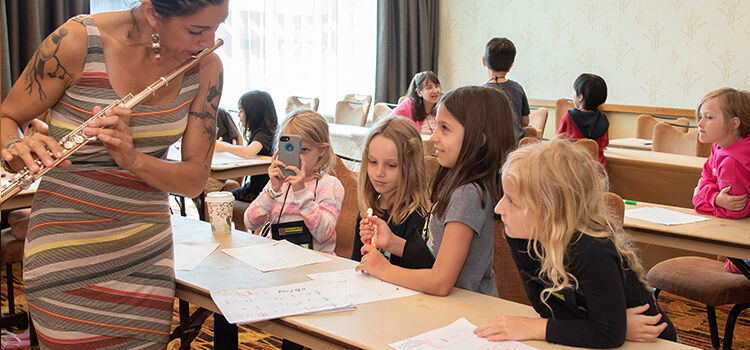 Spark! offers our youngest attendees the chance to have fun, build new friendships, and make lasting memories of their own time at the AG. Our Gifted Youth Programs Manager — a licensed, background-checked staffer — brings in professional educators from various fields to present fun, interactive programs where kids have the chance to learn through new experiences and explore a variety of topics and events.
Spark! registration is limited to 15 slots per age group each day, and registration is first-come/first-served. There is a non-refundable $10 per-child, per-day fee to attend any and/or all Spark! sessions. Should spots remain available, on-site Spark! registration will be $15 per day. Parents are expected to provide lunch for their child(ren).
Children must be dropped off before either the morning or afternoon sessions and must be picked up promptly for lunch and at the end of the day. Specific times for pick-up and drop-off will be included in the AG Welcome Letter (sent a week or two prior to the event) and available on-site.
Note: If you wish for your child to attend all three days of Spark! programming, please ensure you have added each day to your registration before checkout. Any child registered in the wrong age group will be moved into the correct one or, if the proper age group is full, removed from the session and added to the wait list.
Spark! Programming
Space Center Houston
We're heading to the moon and beyond with the help of our friends from Space Center Houston, who will walk us through the planning and execution of modern spaceflight. After we've learned how to safely land (and live!) on the lunar surface, we'll look toward the future, including how NASA engineers in the Artemis program will take everything we've learned from exploring the lunar surface and building cutting-edge spacecraft and lunar outposts to, eventually, send the first astronauts to Mars.
Little Beakers Science Lab for Kids
Little Beakers is bringing hands-on science sessions to Spark! From dusting for fingerprints, learning how to make "Beach Bubblegum," and building soda can cars, this will be a learning good time for all budding scientists.
Kids will participate in two different one-hour lab sessions for a total of approximately eight exciting and safe experiments. They'll don lab coats and safety glasses before creating several take-home polymers, conducting several different reactions including acid-base and exothermic reactions, and change the molecular structure of iodine using a paintbrush and vitamin C! Lastly, they will learn about the effects of Newton's Laws with mini popping rockets.
Splash Kids Art
Prepare for a painting adventure! An artist from Splash Kids will lead us in an hour-long paint party, where we'll create an 8x10 acrylic masterpiece to take home. Large Zip-Lock bags will be provided for the transport of our artwork.
The Houston Museum of Natural Science
Enjoy a live star show for stargazers of all ages in the Houston Museum of Natural Science's Discovery Dish. Using this open-concept version of the museum's planetarium, we'll practice finding constellations, planets, the moon, meteor showers, and the Milky Way band — everything you might see on the next starry night under the darkest skies on Earth. It's our very own guided tour through the galaxies with a museum astronomer. There will be a multitude of shows throughout the day: Great Planet Adventures, Accidental Astronauts, Dark Universe and Dinosaur Prophecy's, to name a few.
Language Kids World
Get your passports ready as we travel to three different countries. Language Kids World will join us with a cultural awareness program, complete with a language lesson. Each participant will go from booth to booth, experiencing interactive learning sessions with a focus on the details of the culture represented as well as learning some of the language of the land.
Mad Science of Houston
Calling all junior scientists. Take a journey with Mad Science into the world of chemistry: the science of mixing things together! We will learn which reactions have physical and chemical indicators, create an acid/base experiment, play with sand that is scared of water, and discover a substance that does not know if it wants to be a liquid or a solid.
The Life Cycle of the American Alligator
Brazos Bend State Park is widely known for its most popular resident, the American alligator. These predators sit at the top of the food chain, but a little known fact is, that they start out their lives being at the very bottom of the food chain being food for all other animals. Learn about the life cycle of the American alligator, from egg to top predators!