Mensans hailing from an array of Local Groups across the country are cheered on by their fellow M's as they showcase their talents, brains, and physiques in a hilarious competitive pursuit for the crown, sash, and title of Misster Mensa.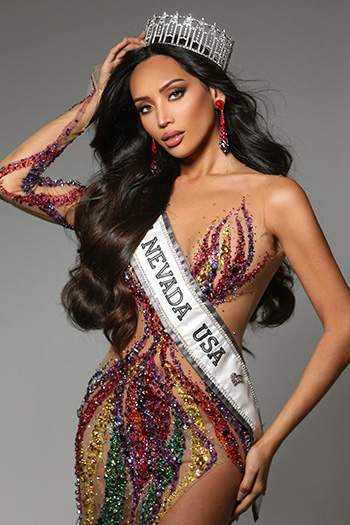 Miss Nevada 2021 Kataluna Enriquez, the first openly transgender woman to earn the title and compete for Miss USA, is our special guest judge! Our panel of judges comprises audience members selected at the start of the event. Judges assign scores to each contestant through the event's sequence of competitive segments, including Sexy Legs, Talent Showcase, and Personal Interview.
As a clever twist, judges have been known to accept comical bribes from contestants in exchange for favorable adjudication. Audience members are encouraged to bring their singles (and twenties), checkbooks, and plastic for the chance to nab a seat on the judging panel, as well as to bid on some very valuable items and experiences that will be up for auction during the show.
Candidates are encouraged to campaign for earmarked donations before the event, both to give them an edge in the competition — bonus points are added to contestants' overall scores based on the amount of pre-event donations received — and to give donors a chance to win fun and exciting raffle items available. The coveted "Audience Favorite" title goes to the contestant who raises the most funds during the pageant itself.
Meet the Contestants
Get to know this year's contestants and why they decided to compete for the crown.
Christopher McCormack
Sacramento Regional Mensa
Having fun and raising funds! Thank you for checking out my page, and for any donation, big or small. You're supporting education, gifted youth, research, and smarty pantses everywhere! See you in Sparks!
Support Christopher's Campaign
Laura Catania
Greater New York Mensa
Hi, my name is Laura and I want to be your Misster Mensa 2022! I love a nice competition (or a dirty one) whether for a good cause or just as an excuse for being on stage. I've been a member for over a decade and I like to stay involved. Mensa has given me a wonderful, if sometimes dysfunctional, family of friends. I could give a fancy reason for wanting to win, but in all honesty, it looks like fun.
Bill Rock
North Texas Mensa
Hi, I'm William Rock, and you've found the fundraising page that has been set up for me for the 2022 Misster Mensa contest. Most people call me Bill, but you can use my soon-to-be title: Mr. Fourth Runner-Up. Seriously. I'll do the time and battle my public speaking nemesis if you could help out with a donation to the Mensa Foundation. Thanks!
Vicki McKenzie
Central Alabama Mensa
Ever since the inaugural Mr. Mensa pageant, I had hoped that one day the competition would be expanded to include women. After a long wait, that day finally arrived in 2020 and I knew that I would be in the running soon. I was motivated by the fact that I wanted to be well-known in Mensa. I could dress it up and say all kinds of other things, but that sums up the essential truth. I want Mensa World fame via the Misster Mensa title. Of course, raising money for the scholarship fund is a primary focus, but, just as importantly, I want to shine a positive spotlight on Mensa and intend to do so. I need your help.... please vote for me with your dollars, and thank you in advance!
Alex Ho
Greater New York Mensa
Greetings and salutations, fellow Ms! Alex Ho (rhymes with "straw") here, first-time Misster Mensa candidate! After attending gatherings for more than a decade, now is as good a time as any to throw my hat in the ring and entertain you for the Mensa Foundation!