General information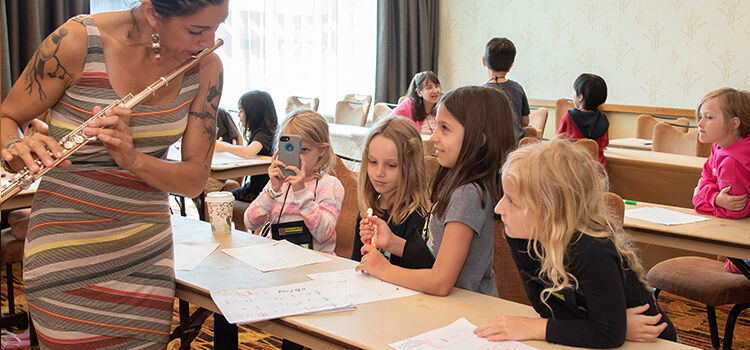 Spark! offers your kids the chance to have fun, build new friendships, and make lasting memories of their own time at the AG. Our Gifted Youth specialist — a licensed, background-checked staffer — brings in professional educators from various fields to present fun, interactive programs where kids have the chance to learn through new experiences and explore of a variety of topics and events.
Spark! availability is limited, and registration is first-come, first-served. There is a non-refundable $10 per-child, per-day fee to attend any and/or all Spark! sessions. Should spots remain available, on-site Spark! registration will be $15 per day. Parents are expected to provide lunch for their child(ren).
Children must be dropped off before either the morning or afternoon sessions. Morning drop-off must be by 8:30 a.m., and children must be picked up for lunch at 11:50 a.m. Sessions will finish each day around 4:45, and children must be picked up by 5 p.m.
Note: If you wish for your child to attend all three days of Spark! programming, please ensure you have added each day selected on your registration before checkout. Any child registered in the wrong age group will be moved into the correct one or, if the proper age group is full, will be removed from the sessions and added to the wait list.
Session Descriptions
Fleischmann Planetarium — We're Bringing the planetarium to you! The Fleischmann Planetarium will be bringing a mobile planetarium dome to take us on a journey through space and time. Children will learn about Earth's special place in our solar system, get an up-close look at some of the amazing features of our planet, go on a trip to the moon with Buzz Lightyear, and dive into the ocean and into history to explore the ruins of the Titanic.
Reno Gem and Mineral Society — Children will enter the World of Rocks and Minerals, where they will get hands-on experience with numerous minerals, including metals, quartz, sedimentary and igneous rocks, along with minerals we used by everyone in our everyday lives.
Urban Lotus Yoga Studio — will help children get their brains and bodies ready for a full day of learning and fun. Children will get an introductory yoga session made just for kids, all while learning about mindfulness.
Challenge Island Reno/Sparks — Have you ever wondered what a STEM career might be like? Challenge Island is here to help you find out! Combining elements of art, science, and of course, playtime, children will work together to explore the fields of Interior Design, Mechanical Engineering, and City Planning.
Cold Blooded Critters 4h Herpetology — Cold Blooded Critters will be bringing multiple live species of reptiles including (but not limited to) corn snakes, ball pythons, rosy boas, and bearded dragons. All the animals will be able to be touched and held if the participant wishes to engage at that level. The presentation is a generalized introduction to Herpetology and the prominent differences between the species studied under the Herpetology branch while deep diving into specifically bearded dragons and snakes. A portion of the presentation will be hands-on with the reptiles and participants allowing for up close experience.
W.M. Keck Earth Science and Mineral Engineering Museum — In this interactive program, we will explore over 500 million years of geology and paleontology focused on Nevada's transformation from seabed to tundra to high desert. Hands-on fossils and paleontologic illustrations will be used to better understand some of the animals of the Paleozoic all the way through the Cenozoic.
PBS Reno Curiosity Classroom —will give children a chance to be scientists, as an instructor leads them through workshops about weather, why fireflies glow, what it's like to spend a day as a worm, how static electricity can make objects move, the physics of sound, and more!
FIRST Nevada Robotics —will demonstrate their LEGO robotics program with demonstrations specifically designed for elementary-aged children. Kids will learn the basics of programming LEGO robots, how to make them move, and have a robot race.
David Ilan —David Ilan has established himself as a world-renowned artist. His career started almost two decades ago when the cast of Seinfeld posed for him. Over the years, celebrities from TV, movies, sports, and politics have personally posed for David's portraits. David will work with our children to help them create their own art masterpieces!
Jennifer Zbylski — We'Ahoy, mateys! Join Jennifer Zbylski for some pirate fun, including stories, crafts, jokes, and sea shanties.
Jerry Martin —Mensan Jerry Martin has worked hard to bring Sudoku clubs and tournaments to schools in Nevada and Northern California, and now he'd like to share it with us, too! With Jerry, children will learn not only how to solve a Sudoku puzzle, but also why Sudoku puzzles are an excellent tool to shape the logic centers in our brains.